In an effort to update this blog more regularly, i'll try adding new categories… and stick to them !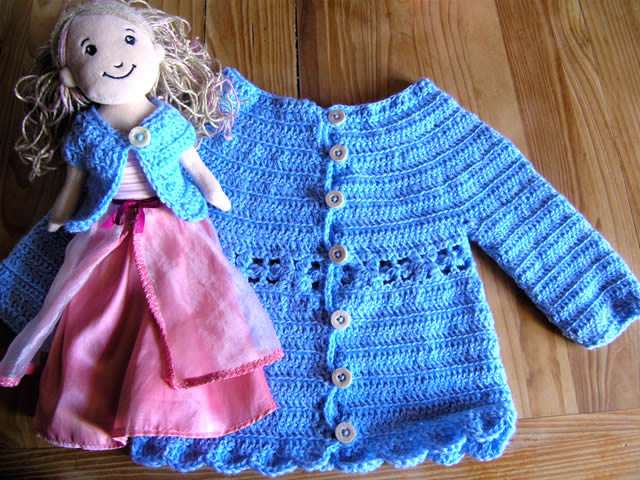 I've been crocheting pretty steadily lately, just don't show it all. One of my projects was a baby blue cardigan for my niece. Yep, that's the cardigan I mentionned about the cute daisy "Marguerite" stitch.
Marie's mum asked for a blue cardigan to match her eyes (!) and I found this thin yarn in a local thriftstore (closer than yarnstore in my area.. and faster than ordering online!).
Used double-stranded, it ended up working nicely for this project… I used muy usual top-down seamless formula, added the Marguerite daisy stitch for a bit of Empire flare. And finished it off with an oversized shell edging. I first thought about making her the matching hat, but wasn't sure they'd wear it, so I made Marie a matching mini-cardigan for her doll: my girls got some too for their dolls as well of course !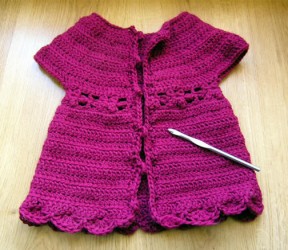 Although it's based on the same basic proportions as the Roselette, this one has (ahem, will have, as soon as I have finished it!) long sleeves.
I'm now reworking another sample with fushia "Eco wool" from Cascade, taking step-by-step photos for the pattern. Each time while crocheting the first sample, I think pattern-writing will be sooo easy.. and yet it's all but this! For some reason, I keep forgetting about those little things and details, which then seem so complicated when I have to explain it all in details. But it's all worth it in the end 🙂