Hi, I'm Sylvie, french and living in France. Totally addicted to collecting antique french spindles to gather as much information about this lost part of my french history & culture.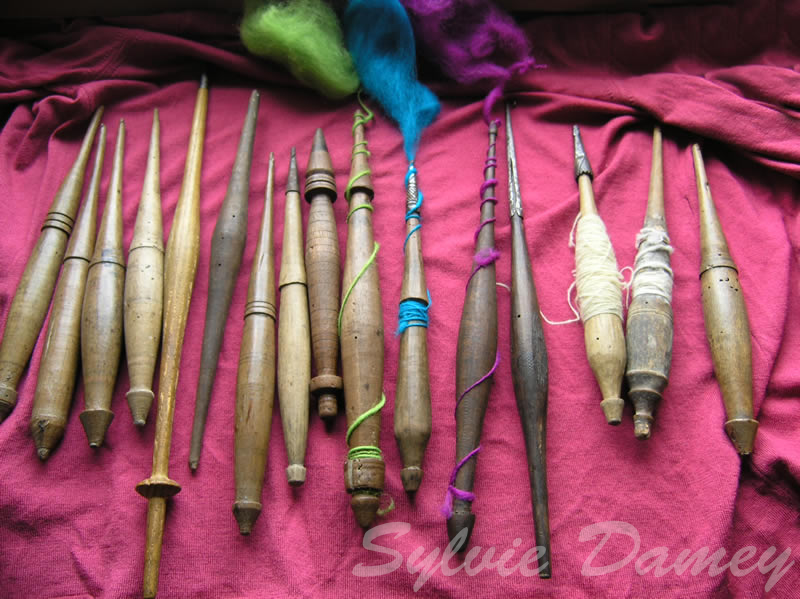 Several years ago, an american friend asked for my help ordering an antique spinning wheel here in France. That's when I spotted those cute antique spindles which came along her wheel. From then on, I started searching everywhere for more information on those french antique/vintage spindles.
Fast forward to 2022: My collection now features dozens spindles from all areas of France, many books and treasured ancient leaflets, and a huuuuuge collection of old postcards showing spindle spinners from France.
It's really hard to find precise information about spindle spinning in the  19th and early 20th century in France. But after so many years of research I now have a much better understanding of
who spun with spindles and why
which fibers were spun with spindles
an answer to the enigma of the "dispparead whorls" on 99% of the old postcards showing spindle spinners
how the metal top parts were used on some of the spindles
And so much more ! My personal goal/hope is to eventually write an ebook about the history of spindle spinning in France in the 19th and early 20th century.
I also sometimes sell a few vintage / antique french spindles to help fund my collection.
Subscribe to my Spindles Newsletter (spindle sale & news on ebook) or follow me on Instagram.