Of course I have tons of "urgent" things on my list, but I couldn't resist making a mosaic reminding me all the cool things 2011 brought…

Posts are becoming scarce on this blog. Yet I've been crafting quite a lot lately… but some things I couldn't show before all the gifting was done !


I made tons of potholders. This round pattern is really addictive, so easy to make and memorize (= ideal project for tv evenings), I love to find new color combinations again and again… Plus it's perfect to bust my large stash of cottons which I never use. I have a plan for an ebook grouping several potholders patterns and a couple tutorials… stay tuned.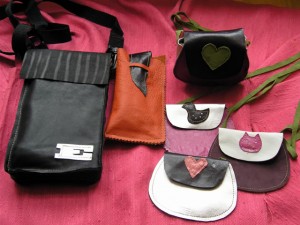 I also branched out in (yet) another direction… sewing leather bags ! Ever since I saw those guys on Artisa in early december, I fell in love with the idea of making my own funky leather pouches and bags, bought several pieces of colored leather, and set one of my vintage sturdy sewing machine to work. I made little coin pouches for my daughters, a mini hobo bag for my niece and a big-boy pouch for my picky nephew (he seemed to be really impressed and like it, Phew !). Oh, and the orange thing in the middle is a cosy for my glasses made in super thick leather. Perfect ! And it closes with a plum-colored piece of leather too… What else ? 😉
One of the next project will be a handbag for me. Funky it will be, I swear 😛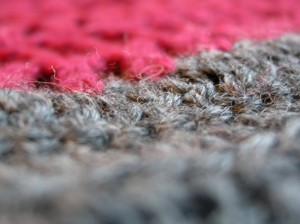 I've also been working on my first ever submission to a crochet magazine. Wish me luck !! Either way, accepted or rejected, this is going to be super exciting: could be either a first published-in-the-press design for me, OR a super cool new design in the coming months … I can't wait 🙂