Lots of fiber dying experiments last week. Not all were conclusive though… My conclusions for next time:


– nope, dying a white batt of Cormo is not a good idea. Unless you want to learn wet felting.. It does make a beautiful scarf though, and I may still try to spin it. And colors look great !
– Love those Cotwold locks, dyed with food dyes and vinegar (except the purple one, with Koolaid as I ran out of vinegar) in microwave. Will dye more, and with acid dyes too. The color rendition is just fantastic !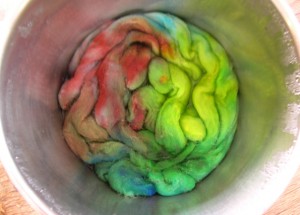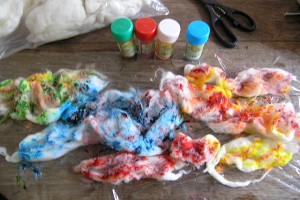 – Dying directly in a pot is fun (I usually drop a little of one color in the water, then insert the wet fiber and drop more food dye on top, then let it simmer for a while with lid on). But this time the colors ended up a little too fashy. Will probably redye this one. Maybe with a touch of red ?
– Have to wet those bits of superfine merino more: no, the added vinegar didn't make up for that missing humidity ! 😉 Those ended up only half-dyed, not good..!
And now the results of the Fiber giveaway: Laurent chose the numbers, and the winners are:
Erin wins the pink lot, and Darcy won the green lot. Congrats, I will email you shortly to get your adress.
Thanks to everyone who left a comment, I loved to read all of them !! Also, be sure to come back often as I've decided to do a Monthly Fiber Giveaway this year !! Next time, I hope you win !! 🙂