Yay, finally the Granny square blankie I made for my friend is finished !!


I weaved in the last end yesterday night and now it's ready to be gifted to her next time we meet.. I can't wait to see how she likes it ! 😛 From working on it I know it's nice and warm so at least it will keep her cozy… (full pic of the blankie here)
Today I thought I'd have a nice time for myself during the girl's nap. Ha. I ended up spending as much time in their room trying to get Maud to sleep.. But I still managed to hand-card those, thanks to the great tips from one of my Fiber swap partner: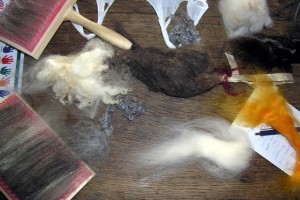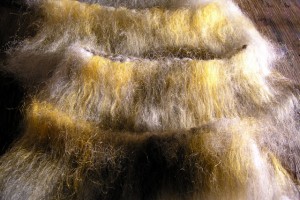 This is a mix of white Romney and Falklands + Brown Icelandic, Blue Texel + Grey Gotlamb lamb locks.. and a touch of orange yearling mohair. Those are my top favorite and I can't wait to spin them !! 😛 (approx. 60 g total, for my records)

I also tried to insert some remainings of the sparkly pink yarn from the blankie into fiber. This is the result, mixed with white Falklands and Romney, along with some Orchid Cotswold locks. A tiny 20 g (is that 2/3 oz ?) of pink and white fluffiness.

Finally, I carded those leftovers from fiber prepared for a previous round of the Fiber Swap Club. Mostly superfine Merino and cormo (both hand-dyed in green), along with bamboo fiber (which I thought could be dyed the same way, Ha, live and learn!) and tiny bits of camel and yak. The result is rather pretty, probably not perfect as my carders are not made for such fibers… and there's about 30 g of it (about 1 oz).
And now here's the catch (GIVEAWAY !!). I'm keeping the first batch for myself but giving away those 2 last batches. I've realised lately I don't particularly like superfine fibers so I won't spin those greenies, and maybe the pinkies might just make a tiny little surprise for somebody, maybe a novice spinner..?
Just leave a comment saying which one you'd like (& maybe why/what you'd spin with it) and I'll draw the winners. You've got until January 10th to enter !
ETA: and I think I'll make this a Monthly Fiber Giveaway… Can't guarantee a precise date, could be anytime. A little fiber each time.