I recently became obsessed with textured batts and fiber. Spent hours drooling over some on Etsy, indulged in one lot, and started daydreaming about the day when I can afford to buy a drum carder… Then I found Laurel's handmade hackles (she's part of my Fiber swap group) and got mesmerized by this video showing how to use them.. That was it, I needed one ! I even bought long nails to build it..
At the same time, a lady on Ravelry said pet's flicker brush could be a much cheaper alternatives to hand carders. I looked and looked… and finally found some cheap ones in my local supermarket yesterday !! 😀 I bought one flicker brush, plus a dog's comb. For a total budget of 7 euros, quite reasonable.


So I started experimenting. First I tryed adding fiber on the comb just as I would on a hackle. This part was ok, but as I started pulling fiber in a simili-diz I quickly realised it just didn't work.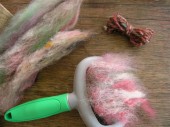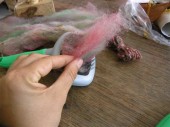 I switched tools and added fiber on the flicker brush. Then combed it (always in the same direction !) and that worked better. I then got a very-mini batt, which I stretched into 10″ strips of mixed and very textured fiber.. Yum !!


Of course I test-spun it right away and love the outcome, exactly what I was looking for !! A bit coarse in places but that's due to the fiber I'm using (vintageous random locks and roving I thrifted ages ago, along with some leftover fiber)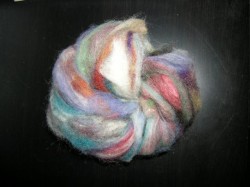 Now I've prepared about 1 oz of mixed fiberlets to spin this week-end ! Can't wait.. both to spin it and prepare more fiber ! 😀
Also, I'm honored to say I was granted a bloggy Award by my friend Maylin, the Arte y Pico ! 😀
Maylin is a "neighbour" as she lives in France as well, but I wish we lived closer one to the other so I could go and visit her someday. This amazing ladylives in a yourt, spins the fleece of her own goats and her neighbour's yarn store. She's like the personification of my dream life..! 😛 And I'm truly stoked by her kind words on my blog, as I always fear that I don't have very "intersting contents" for my readers…
Anyways, the rules of this Award are :
1) You have to pick 5 blogs that you consider deserve this award, creativity, design, interesting material, and also contributes to the blogger community, no matter of language.
2) Each award has to have the name of the author and also a link to his or her blog to be visited by everyone.
3) Each award-winning, has to show the award and put the name and link to the blog that has given her or him the award itself.
4) Award-winning and the one who has given the prize have to show the link of "Arte y pico" blog , so everyone will know the origin of this award.
5) To show these rules.
And as I now have to pick my own 5 Award winners, here goes:…
Regina of Monster crochet is a constant inspiration (look at her awesome Dead sea stole if you haven't already!), on top of a great blog to read. I love her approach to crochet, and also the fact that she's a multi-crafter never afraid to mix techniques in her creations : she crochets but also knits, spins and weaves !
Rachel-marie (aka knittydirtygirl) also writes a blog which I love to read. She seems to burst with creativity, shares openly about her working process, and I love her recent new endeavours with recycled packaging and natural dyes.
Of course I also have to nominate Jacey from Insubordiknit. She's a master spinner and I can't wait for her soon-to-be-released art yarn DVD. Never afraid to think outside the box, she also knits cool stuff & has a great family…
Next comes a fairly recent find (via Etsy), Rosieok's blog. This lady makes just the most charming crochet toys which she sells on Etsy as well as the patterns. Seriously cute !
Nuttnbunny is one of my swap partners in the Fiber swap club. This lady has an amazing taste for colors, I just can't get enough of her spinning pictures and beautiful items she knits from her handspun ! Very inspiring !
Most of you probably know Emily from Ravenhill, her handsewn scandinavian babushka dolls are the cutest thing. She also creates lots of other beautiful items, always beautifully photographed. Always a pleasure for the eyes ! 😛