Finally I managed to finish my new Mittenettes !! They're very warm and quite pretty (even though not as plum-colored as I first thought). I now need to make a matching hat with the remaining hank !!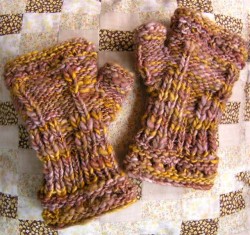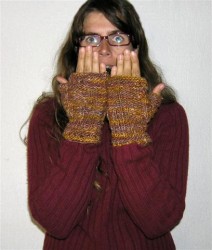 (Please excuse the funny look, I'm holding the camera remote-control in my mouth.. 😛 )
I also have a few pictures of yesterday as we went with my friend Emily visit Mary (see mary, I need your blog url to link to you !! 😉 ) who lives near Bourg St Maurice in a Beautiful place "with a view" !!
We had lunch together and talked about .. knitting of course !! Can you see Mary's cool "Leaf" cardigan ? It was probalby the first time I saw "for real" a popular web pattern .. plus she made it with a beautiful plum yarn , Ha !! Emily also brought her reall nice Kureyon hat, she even wrote down the pattern for it !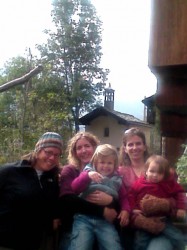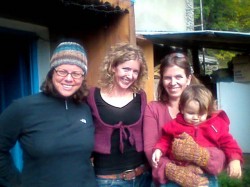 As for me, you can probably see my Mittenettes.. because they're closer to the (crappy-cell-phone-quality) camera, my hands look like Yeti paws !! 😉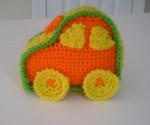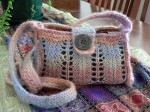 And finally, look at this super cute Vroomie, and nice Isabeau Purse with a Loooong strap
I'd love to see your pictures too !!! 😀