I finally finished the body of the SKB ! I love it, but I expected it to be a bit larger. Maybe if I knit a second one I'll go for the medium size… 😉
I've only added one set of increases for the bust and knit about 5 rows extra if I remember well. Glad I did too, or it would be even shorter. Gauge was good when I swatched, I'll have to look at it now..
I knit the top (flat) on 4 mm, and then I switched to 4.5 mm after joining to compensate for my tighter knit rounds. For the lace section I just went down one size to 3.5 mm.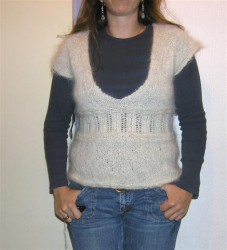 Now, next step is probably the sleeves, I don't feel brave enough to pick up all those neck stitches yet. Still wondering if I'll do plain sleeves or leave with the original lace section. Bell sleeves they'll still be though !! 😀
Things are a bit crazy around here, we learned on friday we might be moving to a much larger flat (& much lower rent!!), in … 2 weeks !! ( beg. December) Wow. It's an awesome news, finally we'll have our own bedroom plus we'll have this extra room to become a computing/studio..!! Cross your fingers for me ladies, let's just hope nothing goes wrong now !
So this will mean packing, moving out and all.. and all this in 2 weeks ! I went to see our current landlord this afternoon, they're cool but 2 weeks notice is a bit short . Oh well…
Then there's also a second potential huge change (no I'm not pregnant.. 😉 ) but I won't say anything about that yet as I'm not the main person involved. Let's just say both opportunities popped up completely out of the blue on the very same day. We're having rough nights… 😉
I've also realised that since we're having an early Christmas with my inlaws (Dec 9th !!) I'd rather speed on the handmade gifts. I'd like to make a beret (pattern in MCI) with a skein of kureyon as Karen did, maybe a cold shoulders capelet from the Happy hooker.. and a crochet necklace, or some quick wristwarmers… We'll see what I can get done !
Okay, looks like Maud's finished her nap. And I'll try and fill in the application form for the flat now… 😀