So I made a second car, the pink and turquoise one. Encouraged by Ajour's comment, I tried my hand at embroidering around the windows but after about half an hour and trying several different stitches, I just left it plain. I sticked to my original plan and just added Xs on the wheels. (first car's wheels are too "fat", I might take them off to fix them.. maybe)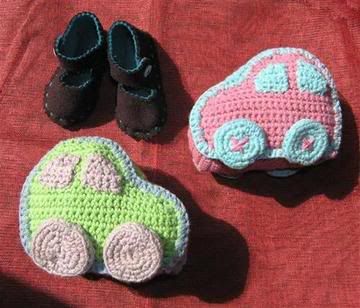 I went to the fabric / craft store on saturday (leaving the girls with laurent, makes it so much easier!) and just COULDN'T resist buying this book. The bag on the cover is so pretty, and some other projects are real cute too. But mostly, I like the general concept, the coordinated colors, plus now I have a little guide of easy embroidery techniques !
I also got a piece of double-sided fleece there, which I want to make a zip-up hoodie for prune with. (I'm trying to find a -super simple- hoodie pattern btw, suggestions..? I'll probably go and have a look at the library..). But I thought it would be perfect for some wee maryjane booties. I used one lonely bootie I found at the op shop for a template and a little later, here they are.Quite like them… I'll probably make a couple more for my Etsy shop. 😀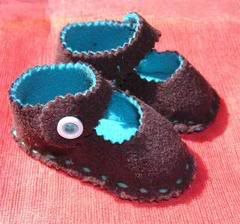 Now the question is what should I send to those 2 babies tho. I may stick with my idea (crocheted caps for the older brother/sister), but should I add a pair of fleece shoes as well..? Time will tell.
I've also cast on for the new Glampyre/Stitch Diva sweater the other night while watching a pay-per-view. I'm using a big cone of nice thin white mohair, it's very fluffy but I hope it'll turn out nice. I'll show a pic when I'm a bit further along…