Just wanted to share some pretty amazing colorful and happy hooded crocheted cardigans made following my Ermeline, Armel and Jehanne cardigans patterns, found through my Facebook page and Ravelry: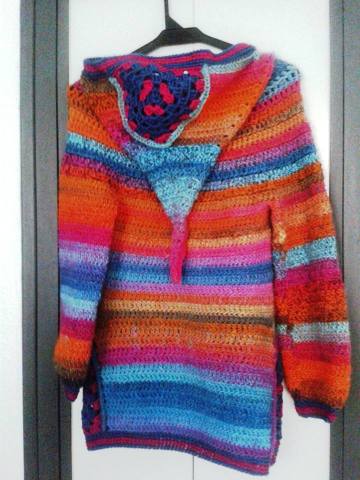 First I spotted this stunning Ermeline crochet cardigan, photographed from the back to showcase that super long hood which makes it so attractive to many of us. This one was beautifully made by TricotyMas and I love that color combination of orange and blues she chose!

As soon as I saw this happy rainbow version of the Armel hooded cardigan on Ravelry, I asked CKFG if I could share it here, and she graciously agreed. I love it, and can totally picture a cute outgoing boy wearing this every day !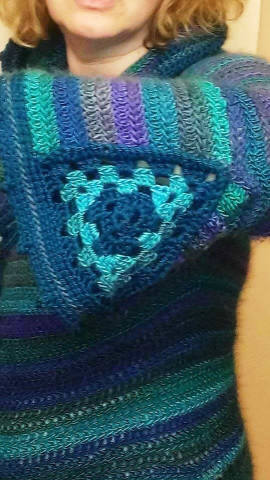 Trish Jones graciously shared not one, not two.. but FOUR of her Jehanne hooded cardigans !!! She chose to customize hers with added granny triangles around the cuffs, to accentuate the elfic tone of her jackets.. (have seen that before among the Ravelry projects as well, it's so cool to see variations on your patterns and how people add their own personal touch !)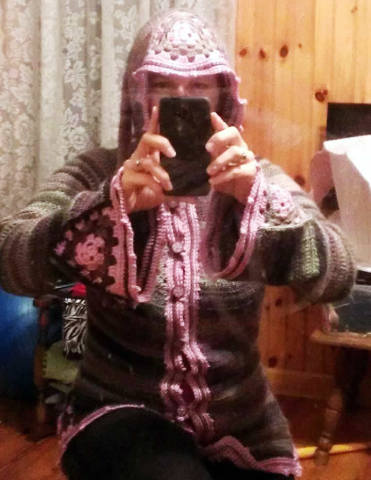 Oh, and you gotta love what she says about them too, I bet Trish is a fun person to hang out with 😉
" I wear my sweaters every day – I teach school and am famous for them. I added a dragon tail to the end of the blue one. The brown is one I made for a friend at work and the orange is my daughter's. Her teacher had her model and spin for her class You have given us so much pleasure in your designs. Thank you so much for making them available in English!"
Would you like to share pictures of clothes you crocheted using my crochet patterns ? Please send them along, or leave a comment if you have already published them on a blog !