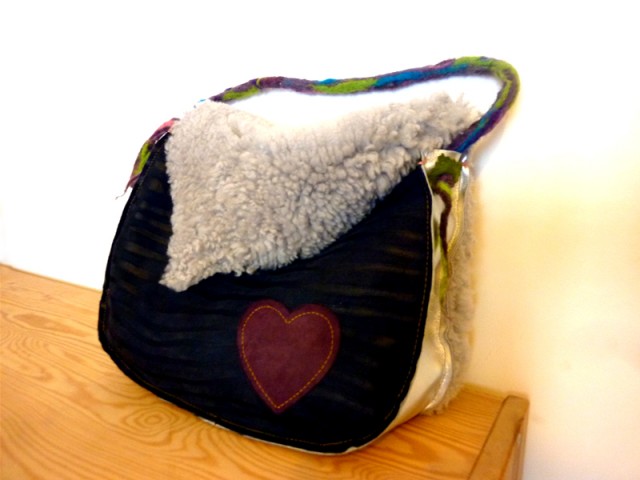 I'm in LOVE with my new handbag ! It's so perfectly perfect, and so ME ! I might add a pocket inside, and maybe a button to close it, but I'm still waiting to see whether it really needs it.
About a year ago, I went to a craft show in Grenoble (Artisa) and met this incredible artisan, "CreaNoy", who makes the most amazing leather purses and bags, with really funky leathers and notions.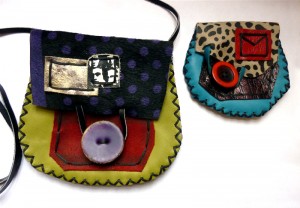 I totally loved her work, but it was never exactly what I wanted… I bought 2 really neat little purses which I love to use. And started to hunt for pretty pieces of leather to try and make my own perfect handbag.
Right from the start, I decided mine would have a sheepskin flap. I wanted a purse that would look like a statement. Plus sheepskin is wool, right ?!! 🙂
While I did start and make small leather goodies, one year is what it took me to gather all the materials (esp. the sheepskin from Ikea) AND find the perfect timing, with enough time, space, and friendly and crafty vibes.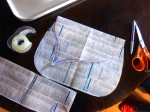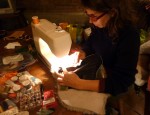 Suddenly on the second day of our 4-day stay, after lunch I started to draw an outline on newspaper. That would be the back piece and flap of the bag. Another piece made the sides (cut in 2 so it fits easier in my leather pieces). The necessary pieces were cut in minutes, and both bottom bands sewn together on my regular sewing machine, only equiped with a special leather needle.

Later that day, I sewed the pieces together. I was amazed how fast the whole thing got together: Suddenly, I had a handbag ! Next morning, a strap was felted and inserted through the side holes (reinforced with a piece of contrasting green leather), and I added a zigzag strip of green leather to the top of the bag, just the perfect finishing touch.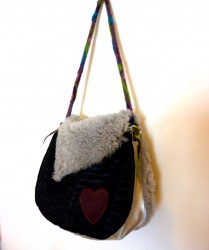 Please note: I'm also adding pics to the previous post below, have a look !