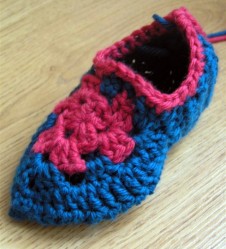 On thursday, while hiking with my husband, I had a sudden inspiration: Baby Babouches !!
They were so easy to make, just downsizing my pattern. Now I only need to work out the sizing. 🙂


Both girls were invited to birthdays last week, so we had a crafty morning together. The little one sewed a felt bird, which I sewed onto her friend's t-shirt, transformed into a pretty nightgown. (said friend wore it all afternoon!). Sorry for the poor photo, it's so much cuter in real life !
My older daughter's friend is apparently a big fan of aliens. So we made her a complete alien's outfit, with a fabric necklace and alien brooch. And alien masks (idea and basic mask outline from here), one of them colored by Plume. We left the second mask blank so that the little girl could color it her own way.. 🙂 Plume had a lot of fun drawing all the aliens on pieces of leather. The card she made was cute too !
And finally, here's a robe I made for Nell with plum fleece and an old pink sheet. She asked for the flower, and so glad she did: it adds so much to the final result !! 🙂