Have you seen me ? I'm on the Etsy blog !! 😀 .. well, the french Etsy blog, but still that's nice, especially when seing the other talented ladies also giving their tips on how to sell on Etsy.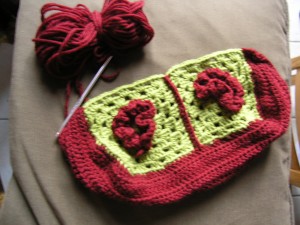 I've been crocheting some, working on a new little purse with my flower granny square. I wanted the purse to have a bit of 3D whizz and used a square I created last summer.
The purse itself is not that long to crochet, but I have to find some quiet time AND occasions to take decent enough photos (for the step by step tutorial) so that doesn't leave that many options. But I'm getting there.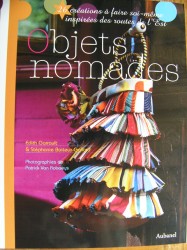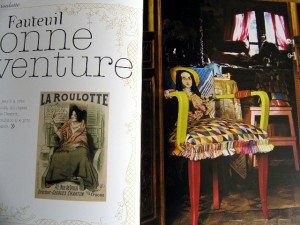 Also, I've buying a few books to satisfy my new craving for sewing. Mostly french books, but I'll still show you. 😉
This one is called "Objets nomades", and it's one of my new top favorite books ever ! Beautiful pictures of gypsy caravans, circus and horses, yurts of mongolia, lots of very pretty vintage pictures… and 26 projects to create your own ambiance at home.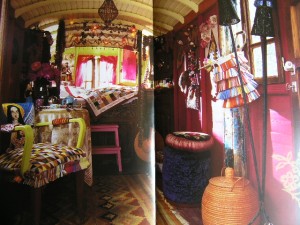 There's pillows, and revamped chairs, lamps… My favorite are a long skirt and 2 awesome bags (one being the one on the cover). While instructions are not your usual sewing-book with tons of details, if you know the basics of sewing you'll have all the info you'll need. And while I probably won't follow exactly the instructions, I totally want to sew winter skirts in that spirit for myself ! 😛
Finally, a pretty Roselette top made by Vanessa F., who says :
"I love the Roselette pattern so much, ( which is why I need to make one for myself!!) I have modified it at little for my little boy to wear, it turned out really well. I used a combination of homespun alpaca & an alpaca & merino blend."
I'm waiting for your pics too, for my Gallery ! 😀