Like many before, I have succumbed. I bought several japanese craft books on Etsy (very easy, and some nice sellers will get you any book you ask for).
The charts are very easy to follow if you've ever worked with charts before, and there's usually plenty of pictures in how-to sections at the begining/end of the books.
As usual, I got tempted mostly by stitch dictionnaries more than actual project books… 🙂
I'll start with the knitting books.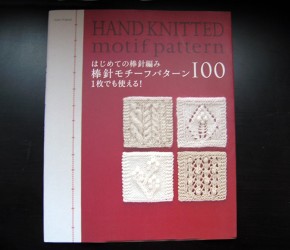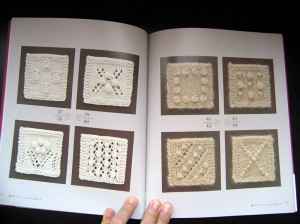 "Handknitted motif pattern 100" is such an extremely cute book with a beautiful layout that I couldn't resist.


The patterns inside, full of lace, bobbles and cables, are quite unique and very pretty. I highly recommend it. Honestly I keep on getting back to this book and finding new treasures. There's no actual projects in this book, but the first few pages show how you could use those patterns for pretty scarves, pouches and other cute japanese-style cuties.
Each double page of photos is followed by a double page of charts for those stiches. All the symbols used in the charts are explained with how-to drawings at the end so they should be fairly easy to understand. (more photos here)
I also got "knitting patterns 300", a nice reference book.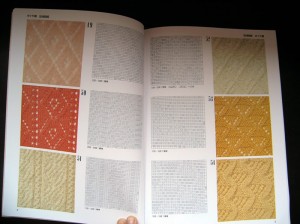 This one is more of a "classic" book, although some of the lace patterns I've never really seen elsewhere. There are some nice combinations of "usual" lace patterns that make you think out of the box, showing how to remix old to make new. The layout on this one is pretty classic with square swatches in front of their charts ( minimalistic & very handy !). Some pics are "different" though, with the swatches knit in odd shapes (stars, circles…). Probably fun and challenging to knit those !


As in other books, they use all kind of different yarns for the swatches (cotton, mohair, ribbon yarn ect…) which is nice in a way as it lets you imagine the impact of your yarn choice on the final result… but it's also sometimes harder to see the details on some lace patterns. As I said, this is an excellent reference book if you love stitch dictionaries. Just not as pretty to look at as the first one.
I'll keep my other treasures (think Crochet !) to show you later this week.
Meanwhile, here's some cool links:
Cool pics of japanese craft books, and some explaining the japanese charts.
Some basics of japaneses knitting (measurements, needle size..)
A fantastic ressource for japanese knitting symbols (although I think the knit/purl symbols are off, in my books it seems more like "blank" = stockinette and " l " = reverse stockinette…)