Yesterday I had a very nice afternoon. After a visit from my friend Emily, Laurent took the girls out for a bike ride and I had the flat all to myself and cooked. So enjoyable ! Because our place is so small, the girls are usually always running around me whenever I try to cook.. Really we will for sure enjoy it whenever we move to a larger place.
Prune even started to draw "our future house, with a garden and lots of room for everyone…" 😀


I also did a few more natural dying experiments, in collaboration with Prune: she picked up some dandelion flowers and moss from outside, and striped the flowers to keep only the yellow stuff (which maybe was'nt such a good idea ?).
I also prepared some red cabbage, and canned grapejuice. Heated each of those in water in separate pans, dipped some shetland wool inside…
We quickly found out that:
– the dandelion only very slighly colored the wool. Maybe we'd need much more, but that would mean humongous amounts of flowers to dye any reasonable amount of fiber. Not for me.
– The moss produced even less color, even in the pan.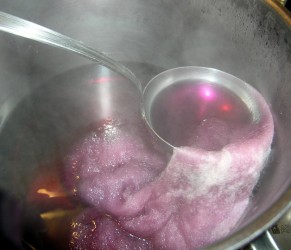 – The red cabbage produced the most fantastic and vibrant purple color. However, the wool would not keep ANY of the dye. So I tried to add vinegar, which changed immediately the dye bath into a pretty fushia pink. I also added salt as I wasn't sure which one to add… In the end the dye did stick a bit, although not half as vibrant as the dye bath. I tried silk and mohair too, and the silk worked much better, producing a pretty fuschia. 🙂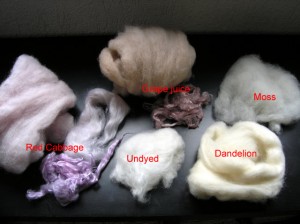 – The grape juice didn't work wonders either, altough the dye did stick much better than the red cabbage. I also ended up adding vinegar and salt (I said it was experimental !) and the final color was semi-ok. Also tried some silk, which took the dye fine.
(click for larger pics)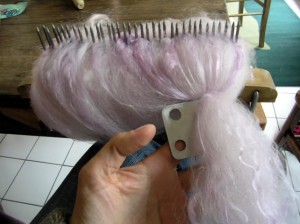 Then I got the hackle out, and processed the grapejuice-dyed fiber (shetland + silk) and the red-cabbage-dyed fiber (shetland + silk + mohair).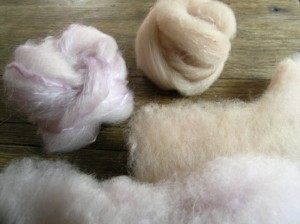 The hackle is really magic for this kind of blend: the silk stands out and shines beautifully ! Will probably list those lots on Etsy shortly, along with more antique spindles, fiber and yarn…