Prune went a birthday earlier today. That of course meant bringing a present for the little girl. But I don't like buying yet more plastic and/or brand toys or dolls … So I just got a little HelloKitty booklet of cards and stickers, and figured we'd make something cute by ourselves.
We started making a felted flower combining the basics given in those great tutorials but I wasn't sure it'd make enough of a present plus it was taking a bit too long to keep prune interested…
So this morning I still needed a handmade present. And in true sylvie's last-minute style, I had planned something.


At exactly 1 pm after lunch today (keep in mind the birthday was at 3 pm), after taking roughly the measurements on Prune's head, I started crocheting a headband with pink Malabrigo. It was quickly done.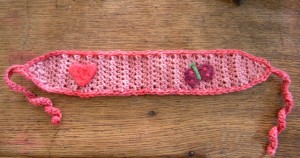 Then I prepared a couple needle-felted embellishements (a heart and a butterfly), first on the foam pad, then needled them onto the headband: Done ! We tried it on Prune and it looked great.. Plus we even had enough time to wrap it up !! 🙂
I guess I'll be making some more for the girls soon !! 😀 (and will publish my notes on how to make the headband, in case anybody is interested. So easy and cute)
This week Prune was still on holiday and I tried to keep her busy while working a bit. I found those great sites with the cutest coloring pages and vintage paper dolls. Maybe you have kids to keep busy too… 🙂