There's been some talk lately about Malabrigo Merino pilling like crazy. I'm not even going to try and argue about that, but was just wondering whether knitting it versus crocheting it made any difference. My friend Jette made her beautiful Violaine top with Malabrigo and she says it doesn't pill.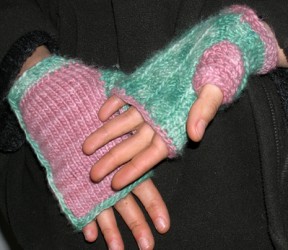 So I'm trying a little experiment. Made a pair of little mitts that are knitted on one side and crocheted on the other side. I'll try to alternate and wear them on both sides, and see if it pills more on either ..? Will keep you posted on that !
One result of the experiment already is that Malabrigo looks prettier knitted up than crocheted.. and you know already how partial I am to crochet so it hurts to say that ! 😛


I finished spinning my Orange Fiesta yarn, washed it and fuelled it a bit. This time I did not block it though (yep, I'll admit I was cheating some) and will try to improve the balance of my yarns instead… 🙂 The first pic was taken before washing though, so it does look better now..
I really love how it turned out, even though I still need to practise on my foreign-objects-inserting techniques. One of the flowers was not really spun in and I'll probably sew it in to secure it.
Also, the orange laceweight is sometimes VERY loose around the single. I might need to recheck Jacey's technique on the DVD to see if I did it correctly. But I suspect the tension was too tight on the cone of laceweight.. and it will also probably be easier the day I have a wheel.
(Btw, Jacey just called me a "one spinner that is a whiz on the spindle".. not so sure what it means but I'm still blushing !! :-D)
Thanks for all the people who left a comment on my Monthly Fiber Giveaway (now closed with this post), I'll announce the winners this week-end. Thanks also for your good wishes concerning the operation. 🙂
Also, don't forget to send me your pics of items made with my patterns for discounts on future pattern purchase ! I'm extending the deadline to March 31st.