Material Whirled is having a Valentine yarn Giveaway. You gotta have a look there, first maybe to try to win the yummy skein of handspun, but most of all, to read all the fantastic quotes in the comments. (and another cool contest here, to win a beautiful nacho nuno-felted poncho)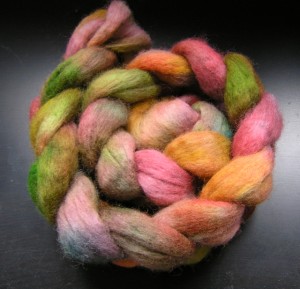 I have finally finished working on the pattern for the Altay hat, after crocheting yet another one for the step-by-step photos. This one is now property of one of Maud's daycare ladies …full story later. Pattern is now being tested and should (hopefully) be available next week. I'm now working on larger sizes for the Roselette, and crocheting a new sample for Prune in the 6T size. Will keep you posted…
Roving is corriedale, the one that was pictured in the pot a few posts down. Have redyed it with red as planned, it looks really cool now ! 🙂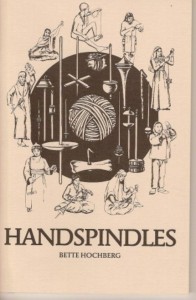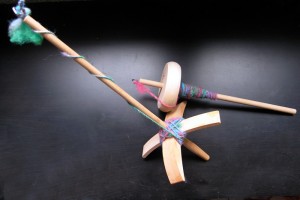 I've received tons of new stuff lately, including a little booklet on handspindles, new set of Susan Bates Crochet hooks (the absolute best IMO, makes such a difference my cousin asked for a set too), and 2 new spindles to replace the one I gave to my cousin.
The turkish spindle sounded great for its ability to wrap the spun yarn directly into a center-pull ball: for the moment, if I plan a plied yarn I need to spin the single first, then wind it it into a center-pull ball manually on my nostepinde, and finally ply it. However, my first tries confirm the fact that a low-whorl spindle is much slower than a top-whorl. Plus it seems much harder to make it spin with the whorl so low: can't really push it along my thigh as I usually do. So far, what seems to work best is to make it move by pushing behind one of the sides of the cross… Again, slow. I don't want to spend twice as long spinning it just to save the same amount of time on the center-pull ball. Yep, I know that spinning is not all about speed. But I just don't have enough time on hand and want to make the most of what I have… 😉
But of course, this is only my first try. Will try again and see how I like it… In the meanwhile, I still adore the Ashford student spindle. Heavy and fast. Sturdy and simple. Super functional. Love it.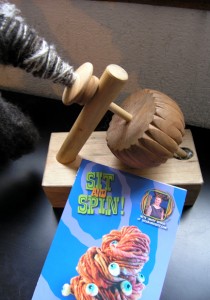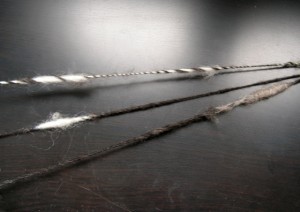 But the most exciting is this: I received Jacey's DVD in the mail a couple days ago, "Sit and spin". Started to watch it "just to see what it looked like" yesterday just before lunch (kids were at daycare/school) and… got completely mesmerized. It's divided into 5 segments, each covering 3 or 4 techiques. And Wow, it's like a whole new world opening in front of me… Suddenly all those fantastic amazing yarns I've seen on Fiber artist's blogs/stores are no longer a mystery. Jacey explains and demonstrates each of them and it seems so simple, I love the way she's not full of useless bla-bla but just uses perfectly appropriate concise explanations. There's close-ups, visual reminders of the different steps, and she really takes time to show each technique both "at speed" and much slower, detailing each step.
Of course I had to try as well, and on my kick-spindle tried both the tick-and-thin and cocoons. I've already done thick-and-thin before, but never in such a "reliable" and steady way. Her way just works perfectly. And the cocoons, so easy .. So I made my first cocoons ever !!
What can I say, the DVD is just so empowering, now I feel like I can do everything ! I've been trying to add foreign objects before, but now I can see clearly what was lacking… ! 🙂
Really, I like that the whole thing gives a clear base both of the techniques she explains, and to experiment further.. I was starting to get easily bored with spinning lately, but now I can see how each yarn is going to be full of experiments and fun ! 🙂
I also love that this DVD is so cozy and friendly. Jacey's studio is like a Fiber paradise with colors and Fiber everywhere.. I was slightly afraid from the preview that it'd be a bit loud and full of hairy music, but it so is not. The guys are funny, the music is cool and they sport the most amazing handspun outfits. All fiber-love !
ETA– & To make it a proper Review of Sit and Spin :
– Things I love about this DVD:
– Tons of techniques, super clearly explained
– No useless bla-bla (…thinking of some Youtube videos where the ladies talk and talk. Sometimes it's usefull but really here I love the fact that she focuses on the techniques)
– I love the fact that Jacey is so generous in sharing all she knows, giving little tips as she goes. And how to combine different techniques.
– I also love the fact that it doesn't sound like "how you should do this" but more like "here are a collection of techniques and tips, but feel free to experiment". It's also very friendly and cozy, feeling as if you were sitting in Jacey's studio. And boy, do I wish I had a studio like hers !! 😛
– Things I like less about this DVD:
Well really there isn't anything I don't like in Sit and Spin so far.
Only things I can think of, maybe some people should be aware that
– it's NOT a learn-to-spin DVD. You're supposed to know how to spin a balanced single/yarn already.
– it might be a bit pricey for some wallets ($40 + shipping if you're outside of the US), BUT to me it's a steal compared to the cost of a fiber camp or maybe private lessons… Being in France of course there's no way I could ever attend any of her classes anyway.. And I love to support indie businesses! 😀
All in all… I hope she publishes a second DVD someday. Will buy it right away !
One last note : I also saw another explanation of how to spin a cocoon online today. And was like "Ha, they're not made properly, Jacey's way is better .." 😉