Remember that yellow and purple beret from a couple posts back ? It was sitting beside my "office" as I wanted to decrease a few more stitches on the last rounds when Prune saw it yesterday and asked "it's for me ?"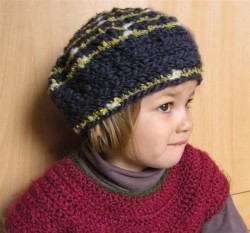 It just looked so perfect on her that I immediately redid the last rounds. She needed a new hat anyways…
Because the yarn was slightly heavier than Kureyon I modified a couple things. Details on Ravelry.
The testing is now going full speed for the 3 smaller sizes of the Violaine. Thanks to all those who volunteered. I'll start working on the larger sizes tomorrow.
Oh, and look at that: my Gift pouch tutorial featured on HGTV blog.. (is that a TV channel ?)
ETA: Another "take time to check gauge" story, with my second Violaine top.. I knew this yarn was slighlty bulkier than Malabrigo (it's a lovely Fonty yarn, frogged from this sweater I knitted ages ago. Let's face it, he'll NEVER wear it) but thought it'd be fine. You know, as in magically… 😉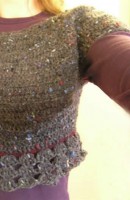 The thing is the pink malabrigo one is already quite roomy for me (seems I'm right in the middle of size S & M) so this one ends up being huge, with the contrasting band going way too low. I'll most probably frog it and redo it in size S.
Hey, at least that's the beauty of being able to try it on as you go ! Better now than in another 10 rounds… 🙂