So, I've edited the Roselette pattern and sent the new version to all the people who bought it. If you haven't received yours, please contact me ! Check also your spam folder… altough I really hope it didn't get notified as spam !! :-/
(basically there was a mistake in the shells section causing the shells to be non-aligned)
The testing of the Violaine is also coming close to the end, several testers sent me their pictures and I'm happy to see it fit really nicely !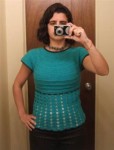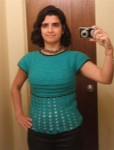 Here's Sylvana modelling hers in size S. I'm just sorry that those stripes are showing so much on hers… This is the reason for my edits in the Violaine pattern. They won't be here in the final version of the pattern any more !
You can also see Vhanna's Violaine here. She's nearly done as well !! 🙂
Yay for great testers… 😀
And I'm that close to being done with my Kureyon Violaine. I'm in love… Funny how at first I didn't like the color so much and now I know it's just the perfect color for me !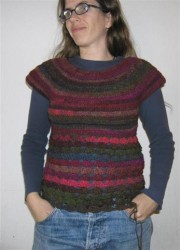 OH. And of course I knew I was forgetting someting important: Since yesterday you can now buy all my patterns directly on Raverly .. Yay !!!! :-