I've started a new little thing, will you guess which pattern it is ? 😛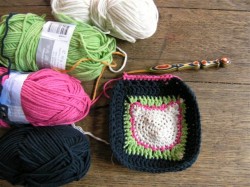 It started as a granny square. It seems to become a hat… And yes, I'm using one of my new wooden hooks. Just as I thought it's not my fastest hook but the pleasure of hooking with such a beautiful tool more than compensates that. I love it.
Here are the first pictures of the Disco beret, by Mikki, one of my lovely pattern testers. Oh wow. Kureyon again, I love it ! She says "I finished the hat in one day. I love how the concentric circles are made very prominent and admire the simple geometry that the contrasting colors create. You also introduced me to the pleasures of Noro Kureyon and I must say that I am in love! "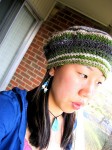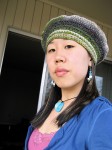 I'm still waiting to hear from other testers, buthe pattern for the Disco beret should be available somewhere around this week-end.
Sara just finished a Banjo bag !! Now she plans on making a second one in Noro Silk Garden ! Read about it on her blog..

Speaking of Silk garden, here's a Roselette made with it by M. who blogged about it here. She says "I am going to make another this week with either another Silk Garden or (and?) with Kureyon 209"

And last but not least, there's Jette's purse. Jette is part of our local SnB group, and last thursday she showed me this new project she had just started, saying "look, that's from a pattern I found on the internet..". It took me a few seconds to realise… "hey wait, this is an Isabeau purse !!" 😉


She has just finished it, and you can visit her brand new blog here(it's in french, you'll be warned).