Cool, my booties are featured in another Treasury list, Seeing Red…
New pics in the Gallery, I love that !! 😀 Doreen's lovely Tote with PVC handles, and Sara's second (larger) pair of Lacanaus for her step dad. Don't you love the snowflakes slipper grips ?!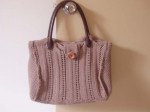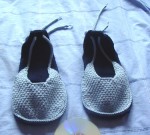 Also, another cute Isabeau purse spotted Here!
I've just created a Flickr group for your "chez Plum FOs". Come on and add your pics !