My pattern in the summer Knitty is finally out !!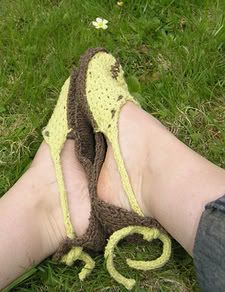 I hope if anybody ever tries making a pair they'll send me pics ! …& I'm actually glad it's out: didn't know what I'd blog about this week .. 😉
We've had a bit of a heat wave here so I came over to my parent's place for a few days with the girls. And although I did knit and crochet a bit, there's not much I could show: the little skirt for Prune I had to rip entirely because I ended up not having enough yarn for the shape I was going for. And my other project is a nursery wall-organiser. Only a plain rectangle in progress so far, not so exciting…!
I also want to start on a little crochet toy thingie for my cousin's new baby (yes, it IS baby time big time these days !). Should be fun, and I have this plan of a collection of 2 or 3 of them for a new pattern… Stay tuned !