Yay ! My article "Knitting from the french" is now online !! Published in stephanie's super cool new magazine, Knitting fog , also featuring a fantastic lacy dress free pattern, and an interview of Julie Anderson ! In my article, you'll find a dictionnary of french to english knitting terms, and the pics link to french free pattern sources.
And look at what we got last night?!! Prune seemed to love it, she even went "exploring" into knee-deep snow (for her!). That's great, we both LOVE snow too. 😀

In other news, here's the beginning of a lacy scarf I'm making. Part of the said stashbusting operation. This yarn had tried to be the Meg Swansen scarf from the fall VK, but I was so afraid I would be short of yarn I frogged it and started again with this lace pattern which I had already been eyeing for a while. And the good surprise was, it's super easy too ! Only a small section to remember, I loooove that ! This was all knit in the train to and from Uni yesterday. 😀


Also, it doesn't show as well on that pic, but the yarn is really cool, it changes colour a bit, from yellowish to some reds mixed in the green… I think it's going to look nice. I'll probably add some picots edging for finishing, we'll see.
..And finally, last but not least, I had my first ultrasound this morning. Yess…, cause I'm 2 months and a bit pregant.. !!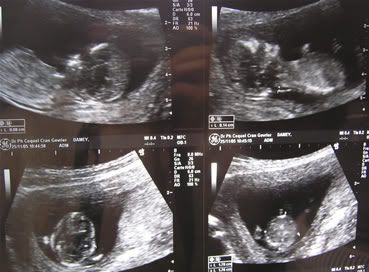 I've known for a while now, but I just didn't want to tell too early. Thought this would be a good occasion.. 😉 Apparently all is fine so far, 2 arms, 2 legs, … and only one baby ! 😉
I was actually glad to have this opportunity to "see" the baby-in-the-making (apparently it's about 10 cm long), cause between prune and going back to school ..and not being as sick as for prune at all (which is good !!) .. sometimes I really forget I'm pregnant. Except my back is starting to ache these days.. Plus of course the boobs thing .. 😉