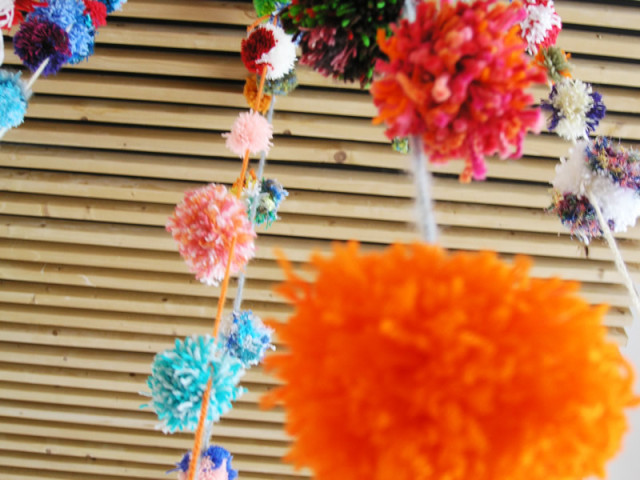 After weeks of making pompons, teaching the basics of knitting and crochet to kids and adults during our wednesday free workshops at our local library, it's been a huge pleasure to install the first pompom garlands and armchair cozies.

The goal of those workshops: spend a joyful hour together, share a few techniques so that they can see the possibilities, touch yarn, feel the textures and play with colors, … and eventually when they come back and show us the hats and scarves they've knit at home, it feels like we've accomplished a lot.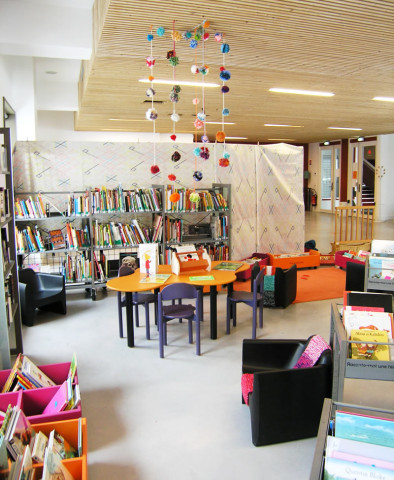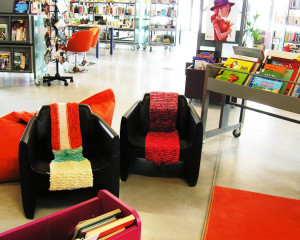 To teach a variety of basic skills while keeping it fun, I chose to focus on 3 things: How to knit, with scarf-like pieces made in garter stitch to cover-up the black kids armchairs. Every participant has the possibility to pick their own colors and change colors whenever they want. Making it a total collaborative project !
We also made basic crochet chains, to use as base of the pompom garlands: This time, I wanted to keep it simple yet let them experience what it feels to manipulate a crochet hook and yarn. Some of the ladies who came got quickly interested in learning more and we showed them how to single crochet. That is a total bonus in my book !!
And finally.. pompoms because they're fun to make, and it's still a great way to start playing with yarn, colors and textures !