I spin yarn on a budget, and thus my spinning gear is not within the higher range of what you could find on the market. Still, I hope this will inspire others to see you don't need the most expensive tools to spin yarn.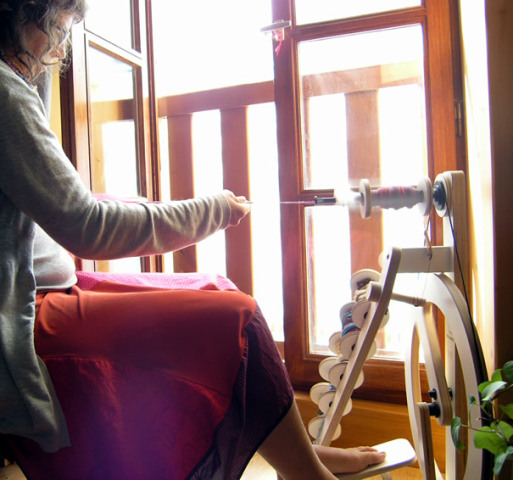 # 1 – I do love my Bliss wheel by Woolmakers.
It's white, with a modern look which surprised me some the first time I saw it, and now love.
It really well engineered and treadles oh-so smoothly. Nothing complicated on it and no fiddly maintenance, the only thing I've done so far on it was to retighten a bolt or two each year.
Also, since I assembled the wheel (so easy to do), I feel like I know my wheel inside out, and what exactly each piece is doing in the overall mechanics of the wheel.
I love the fact that my 5 extra bobbins fit on the built-in lazy-kate on the frame of the wheel. ANd love that you can choose between several options (one or 2 pedals, extra bobbins..)
One big regret though, is still that the bobbins are small, which easily gets frustrating when you spin thicker yarn or want to ply from your bobbins. (and so far, no news of their Jumbo kit)
# 2 – My handmade polymer clay spindles are the best.
Even though one may wonder if they're perfectly balanced, they spin so well that it gives me joy whenever I spin or ply with them. Also, I can make them in any color of my choice, make heavier ones for thick yarn and plying, or feather light spindles to spin lace weight… Oh and did I mention the COLORS ? I love colors, and those are just the perfect spindles for me.
Also, whenever I do worshops, I'm amazed by the variety of designs you can experiment with so that's extra bonus.
(currently writing a tutorial on how to make those)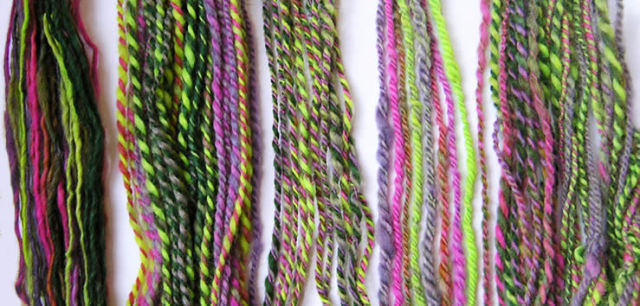 # 3 – Jacey Boggs video classes on Craftsy made all the difference
I have a large library of spinning books. Even subscribed to spinning magazines at some point. Gathered many bits and pieces of information over the years. Felt like I could spin, more of less. Spinning felt comfortable and easy … yet like many spinners I didn't feel like I had total control over the yarns I spun.
Then I watched Jacey Bogg's first class on Craftsy, "Drafting from worsted to woolen" and BANG, that was a total revolution in my spinning. Suddenly it felt like all the pieces came together, and I understood exactly the whole process and how to control the yarn I was spinning. Decide which yarn to spin, why and how. I keep recomending this class to all my friends because it changed a lot of things for me. Jacey is such an amazing instructor, making everything crystal clear and telling you ever so precisely the things other people may not think of explaining… If you're also a visual learner, hop along and spin together with Jacey via the Craftsy platform, I'm sure you won't regret it.
Now Jacey has just launched a second class with Craftsy, dealing more specifically with the techniques which made her famous : "Spinning Art yarns". Although I watched her first DVD back when she was still known as "Insubordiknit", I'll be watching this one with interest. I'm sure she's come up with new tricks and variations in between 😉
How about you ? Any favorite spinning tools or tips you'd like to share?