This summer has been very special. My bestest happiest craftiest friend Sophie, who battled Cancer for the last 3 years and a half, passed away.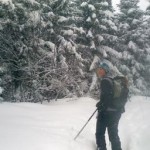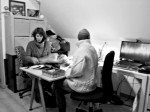 At the very end of june, when it became obvious this wasn't going to be just another of the frequent trips back and forth to hospital ( & because I got so worried for her, I am so sure of this) my stomach started to hurt.
The pain kept increasing… and I ended up going to the ER where I had emergency surgery: Appendicitis and Peritonitis.
That was 6 days in hospital, after which I had to rely on my parents for a couple weeks because I was so weak and tired.
As soon as I regained a tad of energy, I was able to go and visit Sophie one more time in hospital 3 days before she left us.


All this led to a very emotional beginning of summer. It took me a full month to recover and be able to do things by myself again. One month during which the girls and my husband worried for me, and had to manage on their own. So of course they were my top priority for the rest of the summer, and we fully enjoyed August. Barbecues and dinners with good friends, swimming in the river/swimming pool or going to the beach, cooking reading and playing petanque…
And guess what ? I hardly even crocheted of all summer !! That hadn't happened for ages. But it was good to slow down and enjoy some true time off for once, which isn't very easy when you're working for yourself.
A slow summer, reconnecting with things.


Now the girls are back in school, I'm preparing my first worshops and enjoying to get back to crochet and spinning. Loving to watch Craftsy classes at my own pace, and spinning some Rabbit Angora fleece brought back by my mum from their holidays. It's much too soft for my own taste (I know, shocking right ?) but I love to mix and card it together with other fibers. Those mini skeins were tests of various combinations. Only bad news being, my husband is apparently allergic to angora. Which means I'll have to spin those outside the house.
How was your summer ?