A couple months ago, I taught a few local ladies to crochet. But in a couple hours, we only had enough time to explore the most basic stitches (chain, single and double crochet), and make a basic flower using only chains and sc (I had to design my own as I couldn't find what I wanted).
Then the ladies said they'd love to learn to make pretty garments such as my Roselette, which I had brought along. Cool !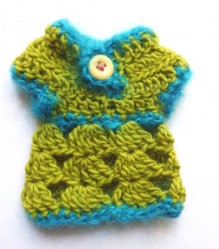 For this, I decided to do a miniature version of the Roselette, so that we could explain and see all the different steps without spending too long on long rows/rounds.
I wasn't too sure if this would work out.. but it did, and perfectly too !!!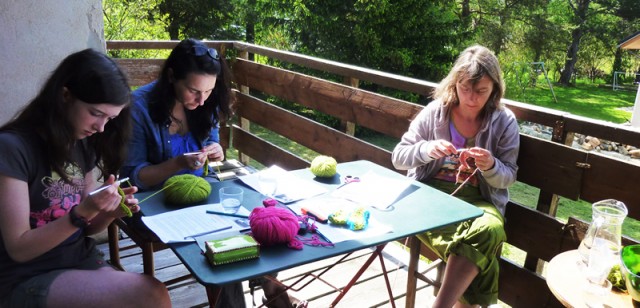 First, summer had finally arrived, and we were able to sit outside and enjoy the warm air and beautiful view while we crocheted.
I had prepared a document with all the instructions – and no abbreviation !!! – so they were able to go each at their own speeed.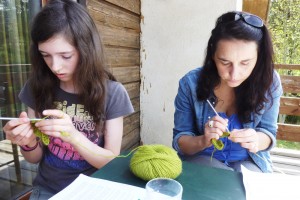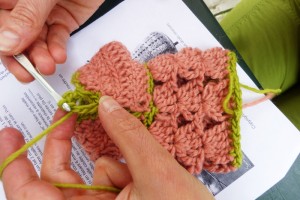 After a few rounds of intense concentration not to miss any stitch or increase, they started separating the sleeves… and boom suddenly it looked like a garment already !! And getting real cute too !! I could feel the confidence building up, and how eager they were to see it done.


I found it usefull that this miniature had 3 rows of shell.. this way we were able to do minor adjustments so that everyone had time for the finishing details, and especially to make the buttonloop in the back !


In the end, they all finished their first ever garment !! I had the best time ever … and LOVED to hear them talk about who they were making a Roselette for next: A copy of my Roselette pattern was included in the workshop, and I designed this miniature with exactly all the same stitches and techniques, so that they feel confident they will be able to make it without any problem !
Now I'm not too sure yet if I should only publish a pattern for this little number (which fits Barbie dolls), or maybe make it very detailed "confidence building workshop" for all those who have never dared make garments yet ?
I would sure love your opinions ! 😀