I'm kinda late on this blog. For once I've been updating the french blog more.. Anybody still around ? 😛
I hope the holidays went well, and you're ready for a year that should be rich in experiences. I hope it will be crafty one too, surrounded by your loved ones.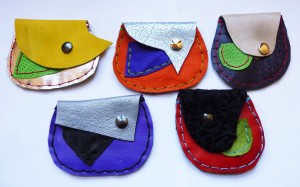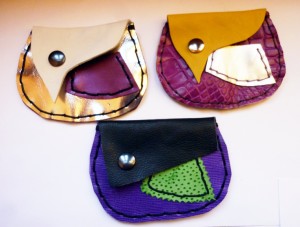 I didn't make very many presents this year, but made a few things. Including this leather coin purse for my sister in law. Plus lots more coin purses, still waiting to be listed in my new Etsy store, "SsySso" opened with my friend who makes beautiful polymer clay Matryoshka earrings.


The tunic I've been working on for ages for my friend is FINALLY finisehd. I think I love it. 🙂
It was probably worth the time and effort… and I do hope you'll love it too. The top is kind of similar to my Myrtille asymetric tunic, but then one side is increased with eyelets, tons of different edgings combine to make this gorgeous finish full of flowers, waves and spirals (self-designed as I couldn't find anything I liked!). The sleeves are also pointy with eyelet increases to echo the asymetric side.
Oh. And I added an i-cord spiral as a special treat for my friend.
Haven't spoken with her since I gave it to her, but seing the comment she left on FB, it looks like she likes it. 😀
The pattern should be available around march this year, as soon as I'm done with the 2 large translation jobs I'm working on. I'll keep you posted.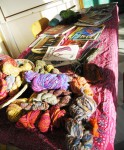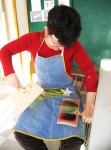 And finally. Had a great morning today, with a "learn to spin yarn on a spindle" workshop with 2 ladies. That was cool. If you live around Grenoble and want to learn to spin (or felt, or more), come and join us !