A few weeks ago, Cathe asked me to take part in a serie of interviews of french crochet designers for the french online Yarnzine "In the loop", and today the article was published. Have a look !

Last week was my first ever "official felting workshop". I had prepared some samples of felted purses and pouches to show them how amazing this material i: now of course I want to make more ! 😛


The workshop went beautifully – except we were short on time; Next time we'll need 3 hours – and I love to see the variety of the felted purses each one made. This is even more true when you consider that there were both kids and adults in this workshop ! But it was great to see the interaction between each parent and their kid, how they re-explained what they had just learned. We'll certainly do this again. (btw: if you live near Grenoble or the Vercors here in France, you could come to one of our wool/textile workshops !)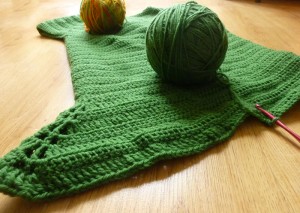 And while the testing of the pattern of my "Myrtille tunic" is nearly over and the pattern should be released shortly… I'm working on a second asymmetric tunic/mini-dress. This one is for my friend A., who dreamt I made her a beautiful dress about a year ago. But this one is such a long story. Anyhow, I decided to make hers a bit different so there won't be a granny triangle but long pointy end made with increases on one side. Let's hope it will turn out as planned !