This week-end in Lot for the "Lot et laine" wool festival was fantastic. Of course it was, but I mean, really (above picture was taken early in the morning, before all the visitors arrived). There was tons of fantastic artisans and stores and workshops, and even more that I couldn't attend because there was just too much too see and do. And meeting so many passionate and super friendly people was just heaven.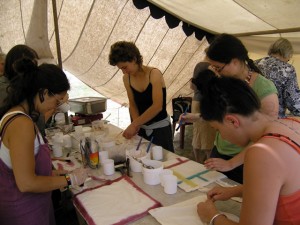 I took a workshop with Deb, the "Mulburry dyer" on natural dying. Learned tons of things, bought mordants and dying plants to start experimenting again.


I sold tons of felted soaps and felted soaps kits (with my new tutorial on how to make felted soaps inside), showed my vintage french spindles in a mini expo along with vintage postcards, learned new things and met fascinating people, including some who already "knew" me via this blog (this was pretty cool! :-P)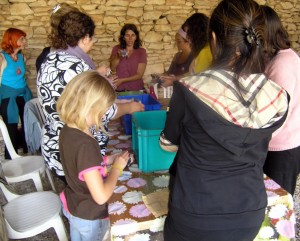 I taught 12 lovely ladies how to make felted soaps, and we had a great time ! It was my first time teaching such a large group of people but it went so well I'm now feeling ready to tackle the world! 😉


Really amazing stores were there, I bought carded local wool to spin/felt, a kit of icelandic wool for a Brynja from Gwenola, amazing felted mitts and flower from a local felter, banana and silk yarn from "my Auntie", and super pretty buttons …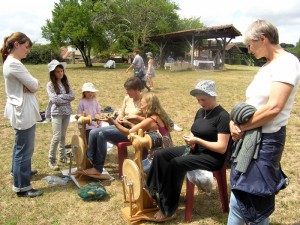 Domino let me try her majacraft spinning beauty. How smooth ! Their yarns were amazing too, really if I didn't have tons of my own handspun unused I would have bought some. Several natural dyers were there, including Renaissance dying (spot her amazing crocheted shawl!!). And Knitters and designers and… so many I couldn't list them all.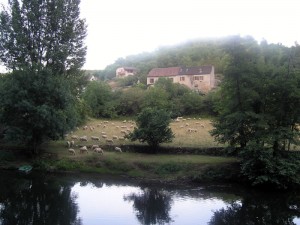 The setup was really neat too, in the middle of nowhere. I camped with several other girls in Cabrerets, and enjoyed staying in this quiet and quaint hamlet. Will have to be back for a family trip for sure !!
Last but not least, I'm so happy to have made so many new friends, Myriam, Agn