Our friend Fabrice is a bit crazy, and we've been calling him "Poulpy" (poulpe= octopus in french) ever since he wore a dead octopus on his head during a costumed party.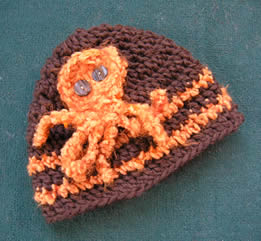 So about 2 years ago when he invited us for his birthday, I knew I had to make him something special, and thought of an octopus hat. And this is what I came up with, a super bulky hat in his favourite colors with a detachable octopus so that the hat would be both functional and wearable (when worn sans octopus) or crazy-over-the-top when worn with the octopus buttoned on.
I started working right away on another sample with a more readily available yarn , Malabrigo Merino worsted, and got the hat all done pretty quick. But then I'm not too sure what happened and the hat sat in a pile of WIPs for .. nearly 2 years !!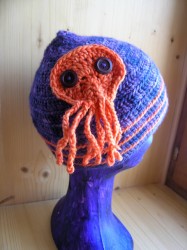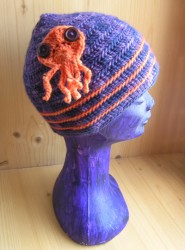 Until I picked it up again a couple weeks ago, back-engineered the instructions and worked on the octopus appliqu