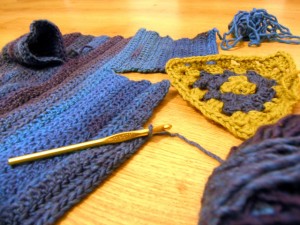 I've started a new project, a long sleeve cardigan for Prune. It's a bit more turquoise than in the picture, I love that color. I've had this design in mind for a while, with actually 2 options. We'll see if I can make it into 2 different designs or have to compromise somewhere in between…
ETA: I actually just tried in on Prune while typing this post and it looks like it could be really cute. Nice ! I can't wait to get further into it and show you 😛
I've just added some nice pics to add to my Gallery: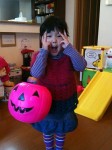 Fumiko (for whom I translated some vintage french crochet patterns) shared those pics of the Roselette she made for her niece in Japan. Pretty colors !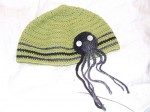 My friend Jette tested the new Poulpy hat, and I love hers, made with malabrigo but in softer colors. She left the ends of the tentacles dangling, ain't they cute ?!!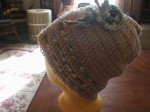 Marsha also generously helped with the testing of the Poulpy hat and I love what she said about it: "This was s super fun hat to work on and when I get a chance I will be making several more. You see with being HUGE hockey fans we are also octopus fans…..they will all have to have mama octopi on them though because the Detroit Redwings were one of the original 8 teams in the NHL and the octpus is a big symbol of that." So cool ! 🙂
And oh, have just got back in touch with an old friend (not that I've ever met her actually but still), I hope she'll be back on the blogging scene soon because she's such an awesome person : Hi Ch. ! 😀