Since I told my family about my new passion for spinning, a couple people said they'd ask friends/neighbouts about raw wool from their sheep. And this is what I just from my Sister in Law, about a pound of raw wool from one of her work colleagues !! So cool !! (I asked for no more than a grocery bag to start with)
I started sorting it as soon as I got it on wednesday, and tried scouring it yesterday. You should have seen the color of the washing water, and the smell too !
Now it's sort of off white, with of course lots of tiny VM left inside. But it should be spinnable, and dyeable too !!! 😀
It looks like reasonably fine fleece too, really not coarse at all, medium staple length. Apparently there's two different qualities, one with lots of fine crimp (reminded me of Finn when I first saw it) and pretty.. but unfortunately this one seems to remain dirtier and I may have felted it some from so much cleaning.
The other lot (in front on pic) is cleaner but "fluffier", as in the fibers seem to go everywhere and are not at all aligned as orderly as with the other fleece. I can't wait to card both and see what happens… 🙂


Also, I've been knitting and crocheting some lately. Nothing I can show as it's either secret, or so exciting that I may submit it somewhere and thus become secret… 🙂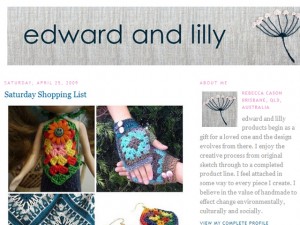 Look, my Granny mitts were just featured here, along with other cool Granny square love.. 🙂
Also, a couple links of super pretty stuff discovered this morning;
Pumpkinhaus on Etsy makes very cool capelets and dolls and things
Really cool felted scarves and things: I'd love to be able to do that, another thing to learn ! 😛
Finally, loving this dress ! Do you think I could knit/crochet one..? 😉 Love the shape, drape is amazing too.