Yesterday I started spinning my Fiber Swap Art batts. As you can see, I love color 😉
Needle-felted some flowers, beads and oddments, and spun using the autowrapping and foreign objects techniques from "Sit and spin". I love that the batts contain all sorts of fibers and textures (including chunks of locks) which renders beautifully in the yarn.
Needle-felting probably won't ever take over my spinning/knitting/crocheting, as it's a bit tedious for me (lots of little parts to prepare beforehand to get a decent final result) but I love being able to mix all those different techniques with the same initial material: WOOL. 🙂
Still need to take pics of my Malabrigo little mitts… that'll probably do a post for next week !
On March 4th I'll be operated on to remove my Thyroid (which has this huge nodule on, and they said better to cut it off completely). So I'll try to rest a lot next week and not do too much on the craft front (but don't I always say that ? :-P)
And thus I figured I needed to take care of my FIBER GIVEAWAY now: I've just handcarded a couple little bits of fiber for you today… always a pleasure as it's a good occasion for me to experiment with different fibers!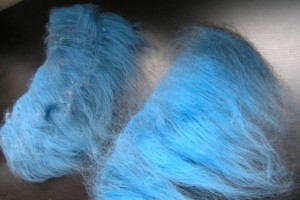 So I give you a tiny amount of dark cloud fluff: Blue Merino, Black alpaca and colored silk noils in one of the battlet (warning, some VM in the silk noils remaining despite my efforts). Amazingly soft and fluffy, with added texture of silk noils. One has silk noils, and one doesn't. They're both a very pretty dark turqoise/teal color, with some black patches (from the alpaca).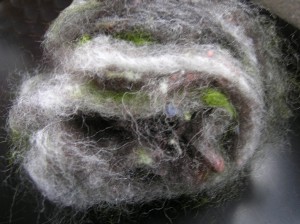 And a couple battlets (probably around 30g /1 oz, sorry, too lazy to weight them this time) of some mystery seemi-coarse brown wool+ white soft wool (felt like falklands) + Colored wool neps & some green hand-dyed Cotswold locks ETA:Oops, forgot the black alpaca in this one too… This one is my personal favorite, naturals colors with added peps ! 🙂
For your chance to win, just leave a comment saying which one you'd like (and why) before my next post, which could be anytime next week.. Good luck !