So, yesterday I Sat and spun until 10 pm… 😛
To reply to Jacey's comment, yes I'm spinning on a kick-spindle and have to slighlty adjust the techniques so I can use them with the spindle. But really it looks like most should work just fine. Just not sure I can do the racing stripes, as the newly-spun yarn isn't sucked in by the wheel. Still leaves me tons of options to experiment with.. 🙂


After a few more experiments with the brown/white batts from the Fiber Swap, I decided to try spinning an actual yarn.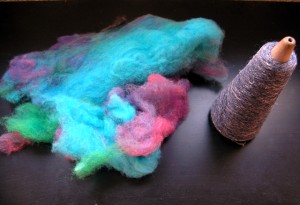 I tore a bit of my Ugly Batt ($10 for a pound of fiber, no fear of wasting it), got a cone of laceweight unknown fiber, and got started, combining autowrapping and cocoons. Wrapped the cocoons as well, love how it traps them inside in a random way.
This is another aspect of the DVD I loved btw, that Jacey shows how to combine all those techniques so you feel totally free to experiment…
The final yarn is not perfect, but then Art yarn is not supposed to either so I have no problem about that.. 🙂 About 45 m of a very thick and thin, probably 2 or 3 oz. Not sure yet if I'll spin more of it or spin a single from same fiber to knit together…


I love the way the colors reply to each other, and the final texture. 🙂
Now, I have just one question to any experienced spinner around : I blocked it in soapy hot water to felt it slightly and set the cocoons and thicker parts. Result is great, except for a tendency of the different strands to interlock. Is there any trick to prevent this ?
Anyways, I'm totally happy about this new yarn, even despite the crappy wool-base I used. I guess now I'll be confident enough to use nicer fibers. And I'll grab lots more cones of laceweight next week-end at my local thrifstore. 😛