As Promised, here's the sequel of my first tries with my new toy, the great Hackle from Laurel, aka CatskillMtnFibers on Etsy.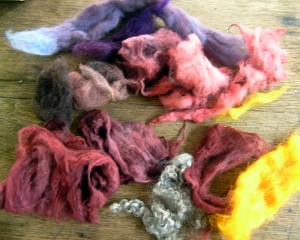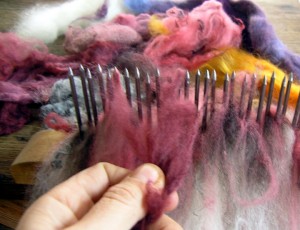 This time I prepared some fiber in advance, and dyed some cormo (which Laurel had also so graciously sent along with the hackle) and fine Merino in a deep burgundy color. I also threw in the dye bath some grey shetland and Blue Texel.
Then I gathered it all with Orange Yearling Mohair, a tiny bit of orange angelina, some grey Gotlamb burls and some Icelandic fleece. And I was all set to go. 😀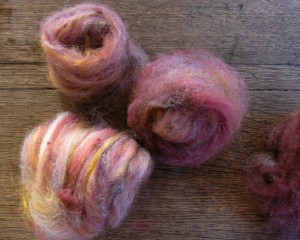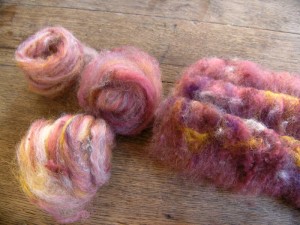 After mixing all the fibers on the Hackle, I started pulling it through the diz. I think I had loaded the hackle too much (hey, I'm still learning and experimenting! :-P) and got quite a bit left over after my 3 super cute buns. The rest of the fiber was carded with my handcards (getting better on that front too, little by little..) and I figured it would be a good way to compare the resulting fiber.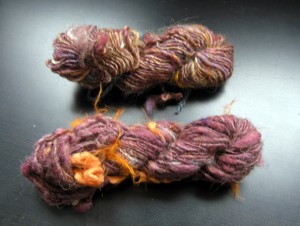 I then spun both lots of fiber, starting with the fiber from the Hackle: that's the top mini-skein (pre-blocking) . What can I say, except it was a DREAM to spin. So soft, perfectly pre-drafted already, with no lumps. Just perfect. And the colors are blended but not too much, you can still perfectly see each different color and fiber. You've guessed it already: I LOVE that fiber.
The fiber which I had handcarded didn't feel half as nice afterwards. I know I need to improve my carding skills but boy, it was so lumpy and uneven, and not even in a nice way. So I added some fluffy orange novelty yarn and orange bits of feather to add on the "wild" side of that yarn. And I have to say I end up really liking the outcome. Still, there's no comparison with the fiber processed on the hackle: click the last pic to see the difference, shows quite well.