I kept having troubles with the pattern download system so I've now moved it all so the downloads go through Ravelry. Don't fret though, apparently there's no need to be a Rav' member to be able to buy a pattern (but is there anybody still not in Ravelry anyways ..? 😛 ) If anybody has any problem with this new system, please get back to me asap of course !

The spinning part on the bottlegreen fiber is done, and after the tedious center-pull-ball making (yes, I stil don't have a yarn winder. That will come, someday..) now is the fun part: plying ! 😀 I know several people seem to prefer the kick-spindle for plying but to me it's really easier on the drop spindle: I get a better view and feel of it to know exactly how much I should ply it.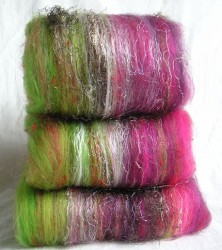 And I'll leave you with yet more yummy fibery goodness: Falklands handpainted combed top from the lovely Tasha (august parcel of Fiber swap club), and some fantastic textured batts I treated myself with, from FeltStudioUK. They took a little longer than I thought to arrive (hey, UK is not that far, seen from France) but they are really fantastic and I look forward to spinning them !
Lots more fiber (and some handspun) to show but that will have to wait till some next time. (you can have a glimpse of some on Flickr already). Have a great week-end ladies ! 😀 (We're going camping, can't wait !)