Helloooo ! I'm back… We got back then left again for New Year's Eve and I just didn't blog in between. The holidays were great, nice time with the family, blue skies, fresh snow and crisp air.. Perfect ! I hope you had a great time too and wish you all sorts of great things for this New Year !!
I have finished a couple items BUT forgot my camera at my parents. So I give you crap pics taken with my cell phone… :-/
Thanks to Ravelry I found more Kureyon to finish my Roselette. (Thanks L. !) I'm not sure if I like the edging ( lime green angora) but it's still much prettier than it seems on that pic. I'll let it sit for a while to decide if I like it or rip it to change that edging yarn.


Then I started on a beret, which I call "Disco beret", kind of based on the Banjo bag. I'm sorry those pics don't do it justice but I think it really turned out cool !! It's made with all the different yarns I like to mix. I'm now working on a second one (black with concentric lime green stripes) for Prune's school teacher.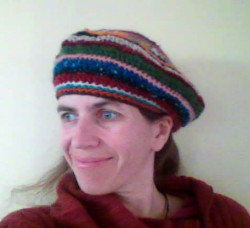 I should publish the pattern soon, after I make another with commercial yarn (probably kureyon or malabrigo..or both !)
*****************
On a another note : CONTEST UPDATE. I'm so happy to receive your pics. Keep sending them in !!
I've realised that I won't be home on the 15th so I'm extending the deadline until Jan. 20th.
Also, because I like diversity, I will award one prize for each different pattern represented. So far I've only got pics of the Isabeau purse & Banjo bag.. That makes all the more chances to win if you have pictures of another pattern !!!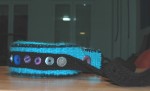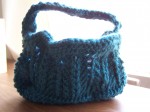 Here's a preview of the entries I've got so far. I will add them to the Gallery asap !! 😀
ETA: Oh, and I forgot: who will be getting a suprise with the 100th sale in my Etsy store ?!! I'm so glad my store started to pick up recently.. 😀
Hurry up, we're nearly there ! 😀