Been knitting more on the SKB this week, I'm now about half way thru the hips shaping. Picture coming hopefully very soon…! 😛
The pink Malabrigo has only gained a couple rows though. Ha, can't do it all at once !
I've listed 2 new pairs of Wee Booties on Etsy this week as well. I'd like to go to the fabric store and see if they have other colours to make yet more different ones ..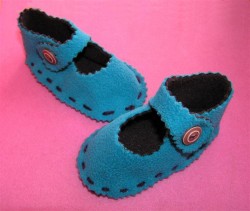 And I thought I was going to show you my new pair of glasses (red !!), they're so cool ! But the lady called, her mother passed away so she's closing shop for a week. My glasses will wait.