Yessss ! Received my copy of the Happy Hooker this week. 😀 I finally bought it, after months of hesitation, right after I realised there was a pattern for Camilla Engmann's beautastic crochet characters that I've been drooling over forever !!!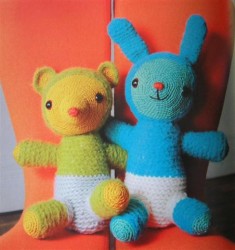 Plus I had a good excuse : it's my birthday very soon, we'll say it's a Bday present.. 😉
Anyways, i'm so excited about this book ! I'm trying not to read it too much to "keep" it for my holidays… But I think I'll try and learn to crochet "the right way" with it, instructions seem very clear and nice.. And of course, tons of projects I want to make in it. And not of the "yeah,, want to make that.. someday" kind. Stuff I REALLY want to make !! Like the short and sweet bolero, this is SO going to be a Xmas present for one of my sil/mil ! and the ladylike lacy gloves too, and… don't remember but lots !
A Huge thank you to all of you who left comments with names for the new pattern, tons of really great ones, wow !!!!! Still not 100% sure which one between my two TOP favorites though … So how about a little suspense and I'll annouce the winner(s) when I get back… (around Sept 30th). I know… cruel… 😛
(also, haven't heard from all pattern testers yet so I won't publish the pattern till then anyway.)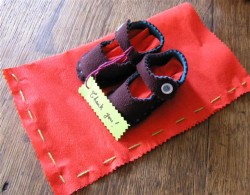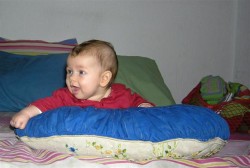 Not much knitting/crocheting/crafting here these days… yesterday I had fun packaging a pair of wee booties going to a new home: I used some crepe-paper (hope that's the right name, I got that in some online dictionary) that I sewed up into a little pouch. A little red and a little green, I love those colours together! And beside Maud you can see my "crafting bag" these days (yep, I did make a WIP crate, but it's full of other wips !!), with the "cars and tractor and van" (patience, name to be revealed soon.. 😉 ).
I'm like 2/3 done with the new car, the one with matching colors and less filling…
Okay lovelies, talk to you in a couple weeks, we're off to the Riviera !! 😀
… & I still need to make up my mind as to what to take with me (knit-crochetwise I mean, of course !)
NB: and of course I always forget something ! Do you remember that article "Knitting from the french" that I wrote for Knitting Fog a while back ? Well KnitingFog being no longer online, Stefanie kindly let me transfer it back here. The link for it is in the sidebar. (on every page but this blog page…)