Emmie sent me these pics of the beautiful Felicie choker she made for her roommate's birthday. Yay, that's the first time I see it knit (and worn) by somebody else !! can you tell I'm excited ?!! Read more about it in her Crafster post… & Of course those pics are also in the Gallery.. 😉


Edit : … and a second choker !

Rosann also made the slanted lace choker and Anemone flower, but " about 5 or so less rows than in the pattern, though, to make it less tall for my neck."
Apart from this, we had a fantastic week-end with friends, 6 kids (babies included) playing together.. That was fun!
And. This is our last week before.. summer holidays !! Yep, we'll be off for 2 weeks, to the Riviera. Hopefully with some nice sunny and warm weather like it usually ALWAYS is..
On the knitting front, I've left the Guinevere on hold waiting for more circs (from Ebay). I just want this one to be purrfect, and as I'm knitting tighter in the round than flat, I'm trying to compensate by going up half a size.. if you see what I mean.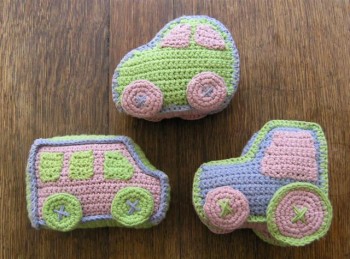 BUT. My crochet series is now complete. Or nearly. I'd like to redo the little car: I now find it over-stuffed and would prefer another colour combo for a more "coherent" set (as in – the windows should have blue windows and wheels) … But anyway, may I present … the mini-van !