Look what came my way just a few minutes ago :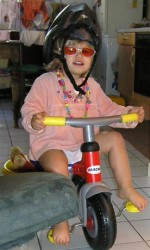 In case you'd not recognize her, that's Prune wearing her dad's biking gear (helmet & sunnies)… I couldn't help but laugh… and grab the camera right away !! 😀
Also, while I'm here, have you seen Brooke's superb Isabeau tote in the Gallery yet ?!! She won a free ChezPlum pattern… waiting for your pics too !!
(click for larger pics)